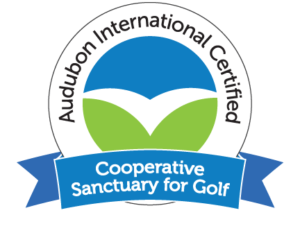 Through the Signature Program, Audubon International offers planning, technical, and educational services to help new developments protect natural resources both on and off site. By working closely with planners, architects, managers, and key stakeholders, Audubon International ensures that biodiversity conservation, environmental quality, and sustainable resource management are built into the project and continue after construction is completed. Haymaker is re-certified on a regular basis.
Visit www.auduboninternational.org
What is sustainability?
Leaving behind for future generations a planet that is as good as or better than we are experiencing today.
What is Audubon International and what does certification mean?
AI is an education and certification program that helps golf courses protect the environment and preserve the natural heritage of the game of golf. Haymaker was the first golf course in Colorado to achieve Audubon International Signature certification.
"Green" Course Construction and Management Practices
During construction, Haymaker minimized disturbed areas and focused on preserving the surrounding agricultural heritage. Haymaker also preserved more than 130 acres, or about 54% of the course, as natural open space, including 30 acres of undisturbed wetlands and 59 acres of undisturbed native grasslands. Operationally, Haymaker follows a comprehensive list of Best Management Practices (BMPs) to minimize potentially harmful impacts of golf operations. BMPs include emphasizing mechanical controls over chemical application which minimizes impact on water quality and habitats.
Water Conservation and Recycling
Haymaker has implemented irrigation practices that conserve approximately 29% more water than through conventional means.
Only 83 acres (small in comparison to other courses) are irrigated.
Wash water is treated and recycled.
Enhancing Wildlife Habitats and Biodiversity
By preserving environmentally sensitive areas, the waterfowl population has increased to include species such as Wilson's Phalarope, Great Blue Heron, and Sandhill Cranes.
Through good land stewardship, valuable natural habitats have been restored and enhanced and the course supports a large variety of plant, bird and animal species, adding to the overall unique experience.
22 bird nesting boxes and bat houses have been placed throughout the course to encourage species to breed on-site.
Help us keep Haymaker sustainable!
Golfers play a key role in environmental sustainability both on and off the course. A few simple rules will help preserve the natural environment for future generations:
Respect environmentally sensitive habitat areas on the course.
Know about and follow cart rules, or walk!
Repair ball marks and divots to keep turf healthy.
Support your golf course's environmental initiatives.
Recycle your cans, glass & plastic bottles & always pick up litter.
Carpool to golf.
Share the sustainability message with others.